There's always been a significant overlap between SF&Fantasy fans and journalism, in print, radio and television. This doesn't necessarily translate directly in publicity opportunities for authors but they do come along from time to time and a sensible author gives as professional performance as possible.
Where the genre has really led the way is in the use of the Internet to bring writers and readers otherwise separated by considerable distances together for interactive events, through webzines and podcasts and of course through blogging. These things are all invaluable for writers – just as long as we don't succumb to the strange time-distortion effects that can so often result in an afternoon's writing time unaccountably disappearing…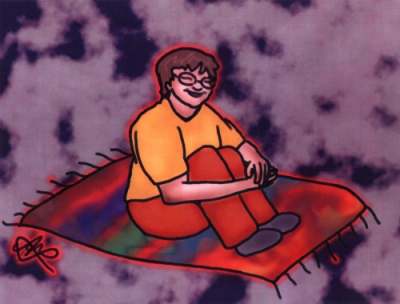 Readers of my LiveJournal will recognise this picture; I use a thumbnail as my icon there. Here's a larger version of Alia Sheikh's splendid vision of an author on a flight of fantasy. This was presented to me by the Imperial College SF Society at their Silver Anniversary celebrations. This was a complete surprise and I feel most honoured. I also feel confident this is the only award I am ever likely to get from a scientific institute of higher education, given my technical ineptness, so treasure it on that score as well.